Evidence Photos

July 26, 2001

Rain And Maintenance Day in Abingdon, VA

Weather report said 80% chance of thunderstorms, Mieko didn't feel well and I thought my cables were
getting stretched. Add that together and we decided to make today an off day. Glad we did, it was great.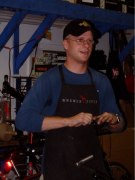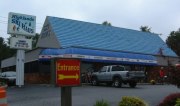 Brandon Roark at
Highlands Ski & Outdoor Center
This guy rocks. One of those people who has the knowledge
to do a good job and really cares about doing his best. It's a long story, but he figured out that some rough shifting was
coming from a still bent frame part in back (here's
how it happened
) and bent it back. May sound trivial, but believe me
that's not something most mechanics could or would do. Oh yea, he's also a paramedic, fire department instructor,
professional bike racer and in one of those really weird twists of fate
Dean's
son. I think he may also be
looking for a girlfriend. Mieko guarantees this guy is a catch. Ladies, don't blow it....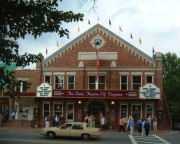 The Barter Theater
where we saw Neil Simon's Proposals. A genuinely first rate production of a
great play. In fact, there were more than a few lines I plan to steal for use on this web page. As an added bonus we
got a gift certificate and coffee mug for being the visitors who had come the longest distance.
Sitting in front of us were Maids Of The Millennium, 15 or so ladies from Blackrock, Tennassee (I think). They like to be called
"The Sweet M&Ms." Oh...The Barter Theater gets its name from the fac that when it was founded in the depression it would take money or
goods for admission. Items received included a live hog and a dead rattlesnake. One guy is said to have milked a cow
in front of the theater for his admission.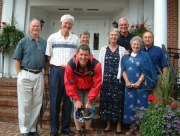 Some well wishers we met after show. Thanks for the encouragement and kind words. Folks, I got to
tell you that Abingdon is one great town.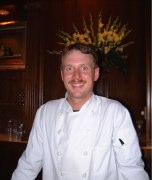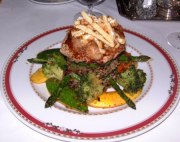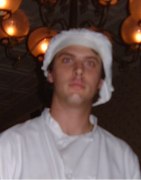 The gift certificates from The Barter led us to dinner at the dinning room of
The Martha Washington Hotel
. Mieko called it
the first taste of civilization since we left Washington DC. I think she's being too kind to Washington.
On the left above, is Steve Sweet, the executive chef and the Souse (sp?) Chef on the right.
The Martha, as it is known, is party of a New York luxury boutique hotel chain. Absolutely worth checking out.