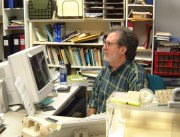 Dr. Murphey in deep thought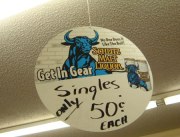 Came across this just outside of Mobile. Malt for less than soda. Scary.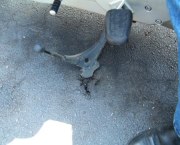 The parking lot in Mobile. I abstractly knew that the stand from a 850 pound touring bike could go through asphalt on a hot
day, but I never believed it would really happen. The hole below was made by the stand in maybe an hour in weather that couldn't
have been more than 90 degrees. It's only by the grace of God that the bike didn't fall over.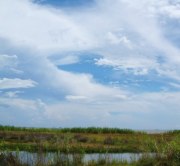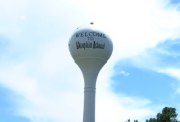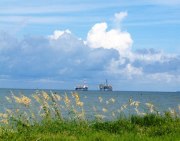 Next stop: Gulf Of Mexico, Dauphin Island to be exact. Dauphin Island sits 3 miles due south of the southernmost tip of
Alabama and is accessible via a bridge attached to highway 193. It's a beautiful place of white sand beaches, blue
skies, pine forests and off shore oil rigs. The picture above on the left is from the 3 mile bridge to the island (too much
traffic to stop so forgive the blur). On the far right are two oil rigs and in the middle is the obligatory water tower.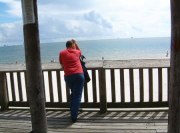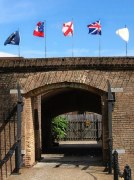 Above is Dauphin Island's historical claim to fame, Fort Gaines. Fort Gaines, built in 1821,
was a supporting player in The Battle Of Mobile Bay, on August 5, 1864 shelling Union naval forces led by Adm. David G. Farragut
in a vain effort to prevent him from closing Mobile Bay. In the end Farragut got passed the fort and forced
the Confederate naval forces, under Adm. Franklin Buchanan, to surrender, effectively closing Mobile Bay.
The city of Mobile, however, never fell.
It was during this battle, by the way, that some of the first torpedoes sunk two "unsinkable" ironsides.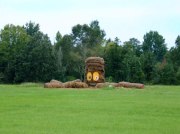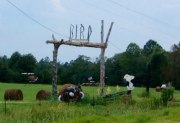 The Bird Ranch on the road to Lafayette. Most of the sculptures are made out of hay. It's not clear in the picture,
but the sculpture in the back of the right hand picture is a tank.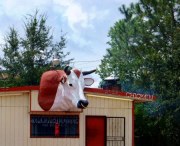 Moo Moo! Check out this cow escaping from a steak 'n ribs place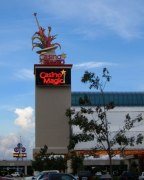 One of about a dozen casinos we passed in Biloxi. Like just about every other city along the Gulf
Of Mexico or the Mississippi river, Biloxi seems to have decided to take a page from Los Vegas and either
build casinos or at the very least allow gaming on more-or-less permanently moored boats.