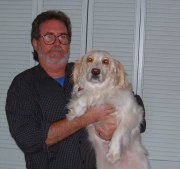 Dr. Michael Dean Murphy, long time family friend, student of my father's and baby sitter with Sancho.
Sancho is the one with 4 feet (two visible), Dr. Murphy is the guy with the opposable thumbs.
Growing up Michael was always the cool adult. I'm happy to report that hasn't changed.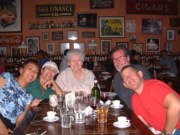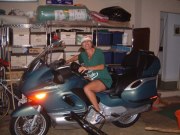 Mieko, Michael's wife Milad (another Dr. Murphy), Michael's mother Pat, Michael and I at dinner.
That's also Milady trying out our bike.
Milady, by the way, has no body fat, muscles of steel and more energy than any other 9 people combined.
I know all this not just from hanging with her but from taking one of her exercise classes and watching her TV spot.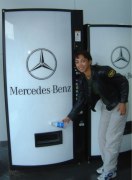 Mieko snags a tasy beverage from a machine at the Mercedes factory in Tuscaloosa, home of the M-Class SUV.
There is a factory tour (which we missed) and a museum at the plant.
My advice: unless you really love Mercedes don't go to the plant unless you are sure you'll make the tour.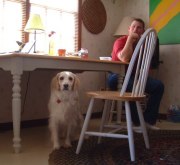 Sancho and I are wondering if we get any food for being in this picture.