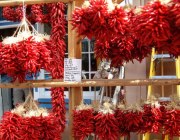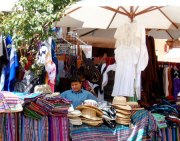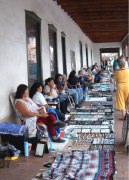 If you'e Japanese and you hear Santa Fe you may think of Rie Miyazawa's book of nude photos
by the same name from the 80's. If you are American you could well think of the Manhattan Project.
Both of these are valid associations, but it's also a major league tourist town. On the left are bunches of chili peppers,
in the middle is Mexican stuff and on the far right is Indian jewelry. An ex-engineer told Mieko he switched to vending trinkets
when he came back to New Mexico from Texas and realized it was the best way to feed his family.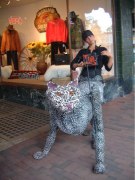 If you like South Western art or jewelery Santa Fe is the place to be. The cat puppet above is one example.
For others please see Mieko's ring collection or our credit card bill.
(What do you mean ring
collection
, Bill?
You are making stories up! I didn't buy rings! Just a necklace!
And it was't even charged to your credit card!)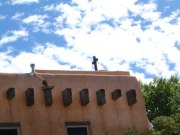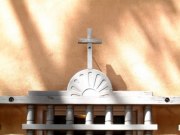 Santa Fe is one of those towns with zoning you can feel. New buildings go into old exteriors and even the parking lots are pink.
Charming in a Disney kind of way. However, if you don't really like gallaries, clothing and jewelry stores I urge you stay away.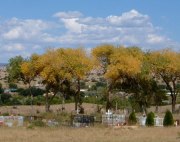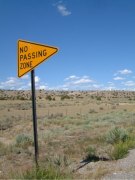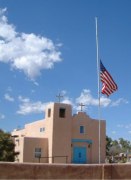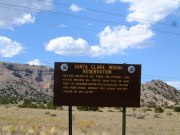 Just outside Santa Fe are a number of indian villages or Pueblo. Although some appear to have successful
enterprises -- casinos, hotels, and upscale restaurants the overall feeling is poverty. From left to right: graveyard, some
typical landscape, church with flag at half mast and a sign saying motorcycles can go no further. :-(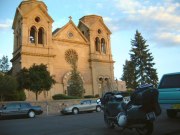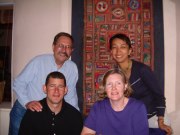 Above and to the left is the cathedral and our bike, on the right are John and Marie, friends we met through one of my brothers.
In the evening we attended a small candle light vigil for victims of the 9/11 attacks. It was small, simple and very informal. 15 or 20
people made a circle under the gazebo in the town square, tried to keep candles lit in a light wind and rain and sang songs for maybe 10 minutes.
There was no leader or program, the whole thing was much like what I imagine a Quaker meeting to be like. I'm glad I went, felt a little more at peace
for having been around people who shared my grief. However, I also felt a little empty, wishing I had been able to contribute more to the gathering
(I don't sing, I sure wasn't going to try and lead a song) and that it had gone on longer.