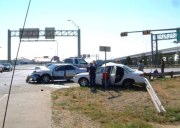 We came to this accident a very few moments after it happened. Just as I got there a paramedic and police unit arrived
and there were a few other people giving first aid so rather then get underfoot but from the glance inside the vehicles
I did get I think that there was at least on fatality as one vehicle going through the intersection
came right into the driver's side of a car making a left turn. Tragedy comes in many shapes and sizes.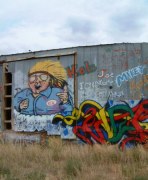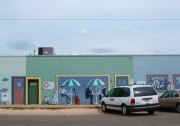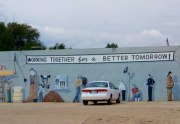 Mule Shoe, Texas. A little town that was really trying hard (as you gather from the slogan painted on the wall to the right)
but with mixed results...the little cafe where we had lunch was fairly full and there were a couple of nice looking farm supply
stores but also lots of empty store fronts.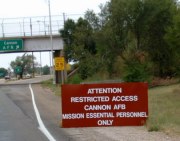 Sign of the times.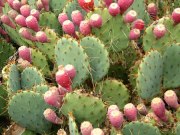 Welcome to New Mexico! This cactus was among the first things we saw.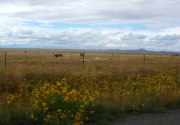 Much of the scenery looked like this, ranch-like but without obvious sign of cattle.
The weather was unstable with rain one moment and sun the next.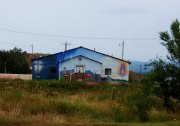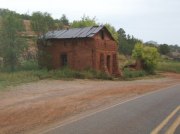 Welcome to New Mexico, part 2, some of the poorest housing we'd seen to date. Note the Virgin Mary on the left. The
house on the right looks ready to fall apart but appeared to be in use.
Coming next: Santa Fe