Evidence Photos

July 28, 2001

Elk Garden, VA

Pelting rains in the morning convinced us to delay our departure.
It improved a little in the afternoon but not much. However, the dark clouds had a silver lining...
we got to know and spend time with the Brown family, owners of the Oak Motel And Restaurant.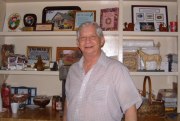 Above is Carson Brown, grandfather and Southern Gentleman. Behind him are a variety of personal mementos in his restaurant,.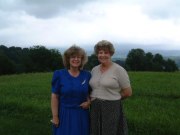 On the Right is Carson's wife Betty and next to her in blue is Betty's sister Jean.
This picture was taken in front of Jean's house, which sits on a mountain overlooking a valley and another hillside.
Parts of Lassie the movie were shot just behind where these two women are standing.
Just standing on the lawn we saw any number of wild rabbits. The area also has deer, raccoons and a variety of other wildlife.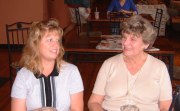 Betty with her daughter Kathy. The 5 of us (Kathy, Betty, Jean, Mieko and myself) enjoyed coffee in a local shop in Bristol, VA.,
It's really amazing how much easier it is to go even moderate distances when you have a car.
It also reminded me that it's been at least 10 days since I've seen a Starbucks. I think too much blood
must have gotten into my caffeine system... I didn't even notice the lack of Starbucks until recently.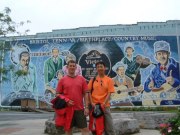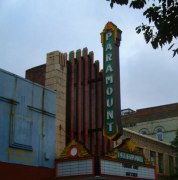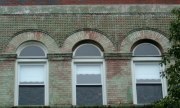 Some shots of Mieko and me in Bristol, the birthplace of country music.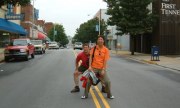 Bristol is split down the middle; one side is Tennessee, the other Virginia. In the above picture we have a foot in each state.
Didn't expect to get out of the state Virginia that day, but hey....we'll take what we can get..

What a day!
After this picture we had dinner. It really felt more like spending time with long lost relatives
than people who a day ago were total strangers. On the way home we stopped at Jean and Betty's church.
Featured prominently were a mural-sized painting and a number of charcoal sketches by Jean.