Pictures from our ride to the top.
Left -- what should be a little stream is about to overflow on the road. Right -- what a good part of the road looked like.
I think in some parts it was more than 1-2 feet deep. Thank goodness the truck never slid or stalled. At one point
the road was blocked by a fallen tree. Happily there was an alternative route along the other side of the mountain.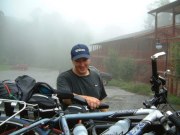 Mike, the man who gave us the lift to the top.
Our thanks to Mike for the help, and also to Wade, owner of The Mountain Market outside
Honaker, who hooked us up. If it weren't for you guys we would have been in a world of hurt.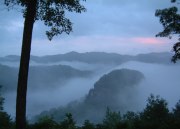 All's well that ends well.
The view from the lodge at Breaks Interstate Park.
And no, we didn't use Photoshop on the picture or any filters when we took it.
This really is the view.