Evidence Photos

Aug 30, 2001
Baton Rouge to New Orleans, LA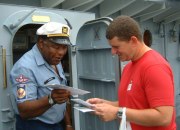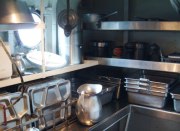 The above pictures are from the US Kidd, a 2,050 ton Fletcher class destroyer on permanent display in Baton Rouge. and used in WWII, the
Korean conflict, and as part of the task forces dispatched to respond to the Berlin Crisis. The man at left is Leroy Jenkins, a true hero.
Leroy enlisted at 16, served on the Kidd, and as a naval crash fire fighter (these guys go burning planes with instructions to come out with the
pilot or not at all) in my hometown of San Diego. It's people like Leroy that keep America free and we all owe him a debt. I should also add,
by the way, that Leroy left the military, played defensive back for the Chargers and then ball for the Oakland A's before taking a job with the
city of Los Angeles. Although you'd never know it looking at him, Leroy is now 70 and answers Kidd questions a few days a week. The
other two pictures are me with one of the 40 millimeter guns and the galley. You can't really see it in the picture, but the Kidd is the only
ship now on exhibit with "Measure 22" combat paint, designed to bend the ship with sky and sea for use in the invasion of Japan.

The Kidd is a ship with a great deal of history. Launched in February of 1943 it earned 8 battle stars accross the Pacifc. Missions in WWII
(this is for the history nuts and stolen from an official USS Kidd History) included Wake Island, Rabaul, the Gilbert and Marshall Islands and
landings on Bouganville, Aitape, Hollandia, Okinawa and Guam. The Kidd was part of an air defense screen on Okinawa on April 11, 1945, attempting
to cope with constant Kamikaze attacks. A lone enemy plane got through the Kidd's defenses and crashed into it, killing 38 crewmen and wounding
50 more. Touring the Kidd one is struck by the harshness of the life its sailors, men like Leroy, must have led. Constant hard and dangerous work,
no privacy, and expsure to well organized and equipped enemies trying to kill you. Not a place for wimps.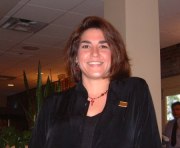 The very lovely Ann Waldrop, Harley rider. Ann turned us on to River Road, running
right by the Mississippi and linking Baton Rouge and New Orleans. Had the weather been better I'm sure Ann, her significant
other, Mieko and I would have logged some miles together.




OK, we're in New Orleans now.
The un-Branson place. I had heard of The Crescent City (Big Easy is a Hollywood construct) as a wild place but
somehow I hadn't fully understood what that meant. I guess I was expecting a PG Disney style New Orleans. Nope, that place is the real deal.
Left is an a window display for the adult section of a major Tower Video store.
When was the last time you saw a major chain store with an adult section?
On the right are street musicians in Jackson Square. Don't let the old clothes and battered instruments fool you. These guys are real pros.