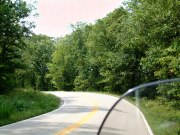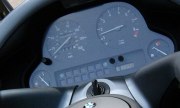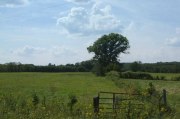 Above are twisty Mark Twain National Forest road, the bike just hitting 1,000 miles (in a week of ownership)
and a ranch. Add a small dose of adrenaline as Mieko earned her basic degree in pillion riding on the curves,
the amazingly well maintained roads, some wind and some sunshine and you'll have pretty good idea of what the drive to
Branson was like.
Our K1200LT may not be a sportsbike (its 850 pounds of bike + 400 pounds of passengers and
luggage is carried by about the same horse power as my under 400 pound Honda CBR 600 produced) but
the ride was consistantly comfortable, surefooted and never dull.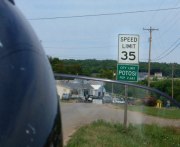 Welcome to the city of Potosi, population 2,683, as viewed from Mieko's perch on the bike.
We had lunch at a nice little restaurant on main street next to city hall and across from a tanning salon and bail bondsman.
Based on the hour or so we spent there it struck me as a friendly town full of "excuse me,"
"thank you" and "no, you go first." Not to say, of course, that Potosi is without modern influence. Our cute young thing
of a waitress, who seemed genuinely in awe of traveling across the US, was heard to exclaim
"F**k, I got someone's food on my hands" when busing the next table.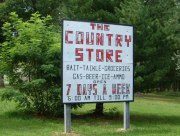 The Country Store, somewhere I believe around Eva. Bait, tackle, food, gas, beer, ice and ammo. Everything a body needs.
And finally, 379 miles (a less scenic route would be 251) mile later we arrive in Branson! The shot below was taken
at a supermarket and shows about 1/10th of the pamphlets actually on display.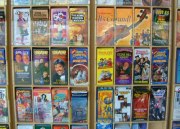 Branson sits nestled between in the Ozark mountains just north of Missouri's border with Arkansas and perhaps
a 100 miles west of the Oklahoma boarder. It is surrounded by 3 man made lakes: Table Rock Lake, Lake Taneycomo and Bull
Shoals Lake. The town hosted about 7 million tourists last year, has a population of about 5,000 and is staffed by about 40,000
workers. It boasts 40 live theaters, 125+ hotels, twelve golf courses, three theme/amusement/water parks and just about every
kind of family fund you could name....bumper boats to wax museums to bungie jumping.. If you like country music, PG
entertainment and feel comfortable shopping at K-Mart this is THE place to be. Read all about it on the next page.