BMW requires a service at 600 miles and I had close to 900 on the clock so off to the nearest dealer we went.
Below is BMW Motarrad of St. Louis. Thanks to Dave Clark, the service manager, who got us in and out in amazing speed.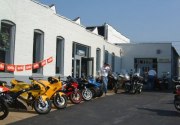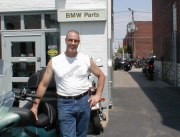 BMW Motarrad was kind enough to lend me a bucket and brush to wash the bike.
While cleaning I met the man above, Mr. Neville McNaughton, President of the
Midwest Rider
motorcycle newspaper.
Neville gave me a great route to Branson. If you are interested in the exact route please see
log
, if not just trust me...it was
a great, twisty, opportunity to water my sports biking roots.
While Bill was bike washing and direction listening, Mieko went off to the City Museum.
Only 4 years old, the City Museum, as the name suggests, is dedicated to preserving the city's history and beauty.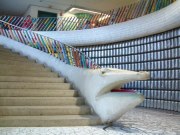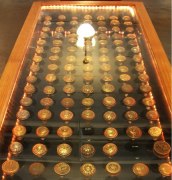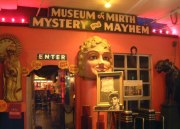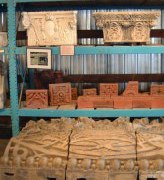 On the left: the entrance strairway. The dorsal fin is made out of old florescent light tubes.
Next is "architectural jewelry" a 19th century doorknob collection.
The next gallary houses such delights as Baby Alien Elvis. Imagine a baby alien from Roswell dressed as Elvis and in a casket.
Yep, you can see it here.
On the far right are engraved bricks rescued from construction sites.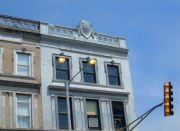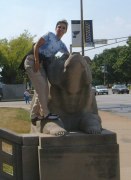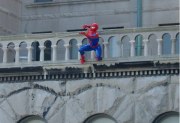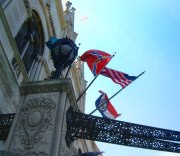 Some random shots from downtown.
The two on the right are Union Station. Check out Spidey!!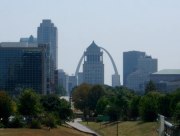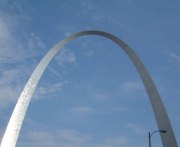 The Arch, completed in 1965 and standing 200 meters tall. The coolest thing we didn't do was have a whispered conversation
standing at opposite sides of the arch, letting the arch carry our voices from one end to other. The arch features
an observation deck at the top served by trams and a large museum underneath.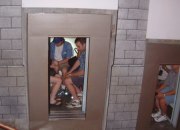 Trams are in trains with each egg shaped car having a seperate entrance and seating 5 people.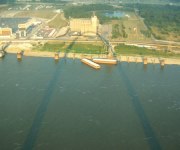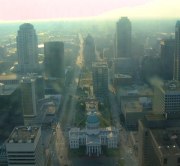 Above is the view from the observation deck. On the left is the westward view of the Mississippi and the Illinois shore.
On the right is city seen from an east facing window.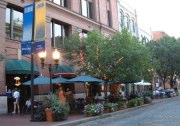 We figured St. Louis was the home of Scott Joplin and would be one of the homes of Jazz. No luck.
We couldn't even find a bar with live jazz (or recorded, for that matter) on any night but Friday or Saturday.
We did, however wander into a bar where two pianists sat facing each other and playing a mixture of
Country And Western, Pops and some Blues. Fun but sure not the experience I was expecting.
We also walked around a floating casino. Imagine a low end Nevada casino and strip away any glitter or free drinks.
Ugh. 20 minutes was all we could take.