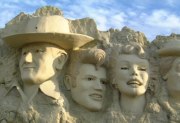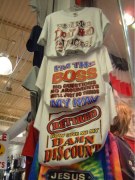 A couple of random shots around Branson. The Mt. Rushmore inspired art to the left is in the middle
of Branson and maybe 40X40 feet.
No resort would be complete without lots of opportunities to buy t-shirts and Branson is no exception.
I can't imagine what motivated Mieko to snap these particular shirts....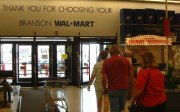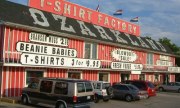 On the left is the Branson Walmart. A normal Walmart except for the theater in back and the timeshare sales booths at
both entrances. It was at this theater that we saw 50's At The Hop, an OK 50's Rock-N-Roll show. I admit..the old tunes
(Blue Suede Shoes never did it for me) and the slow pacing of the show bored me, but the mostly retired audience loved it.
Speaking of theaters, if you are thinking of Las Vegas, forget it. Branson is PG. No topless show girls -- you'll be luck to see
a little leg. The theaters are also smaller (500 to 750 seats) and tickets are around $25, half the Vegas price. Many
acts are family and own their own theaters. I was surprised to see some of these performers walking through the hotel
breakfast areas inviting guests to their shows, but hustle is clearly among the American virtues Branson is built
around. More power to them.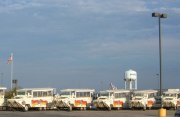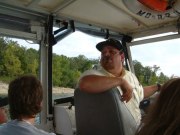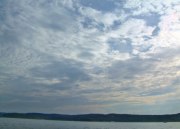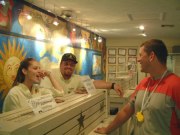 Ride The Ducks folks, Ride The Ducks. This is one experience worth having.
DDukw's are rebuilt WWII amphibian trucks used designed for ship to shore transport.
Here's the vehicle: the automotive characteristics of a conventional 2.5 ton, 6 x 6 truck and,an integral watertight hull,
marine propeller, bilge pumps and rudder.Here's the ride: you go out on the roads through Branson,
go up to the top of Bair Mountain, past a pretty good display of other military vehicles, and look out to a spectacular view of Table Rock Lake.
You then drive down and splash into the lake, cruise around for a while (I actually got to take the controls),
and head back to town. As an added bonus you get you own quacker (its around my neck above) to
comment on the guide's pretty good jokes. The shot on the right is me suggesting some additional but non-Branson style jokes
to our captain, Roger. I only plug the places I really like. Check out the Ducks at
www.ridetheducks.com
And yes, the ride is better than the web site.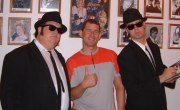 Me with Jake and Elwood at the Legends In Concert show. It was an entertaining show with great performances from
Jerry Lewis, Britney Spears, Louis Armstrong and Elvis Presely, you again treated us to Blue Suede Shoes. This
shot was taken in the lobby during intermission. They wer also selling pictures of you with the stars for $10 each.
Like I said, Branson is about hustle.
After the show, about 10:00PM, we tried to find some dinner. No luck, pretty much everything was closed, we ended up at Denny's.
Branson is like that....entertainment, but not too much beyond bedtime. I should also say that Branson is a great example of
disciplined growth. For all the tourist crowds there are exactly zero free standing bars and the same number of adult oriented
establishments. I don't know who runs Branson but whoever they are they must carry one heck of a whip.