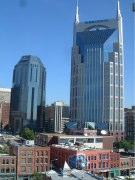 Holy industry based on songs about trains, trucks, getting drunk and mama!!
Will Nashville rename itself Gotham City??
Check out the batman building, technically known as the Bell South Building. I wonder
if the city of Nashville had to dish out a major incentive package to get it built or
if its a vote for the region by Bell South. Considering the mix of prosperous and
empty businesses in the city it was probably it was some of each.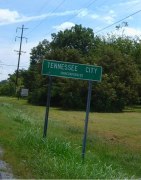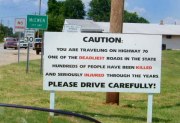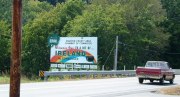 Signs from along Route 70. I think its dangerous mainly because the straight road invites
high speed and traffic is light enough to lull some drivers into a sense of being alone.
Rest assured, we had no problems. Never found out what was so Irish about Erin,
though they did have a green painted auto garage.
By the same token I'm still not clear on what an unincorporated city is.
If any of our readers can shed some light on this I'd love to know.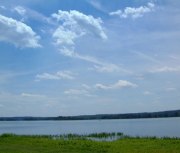 A finger of of what is probably Lake Kentucky.
We actually found this by chance turning right on what we thought was Route 232.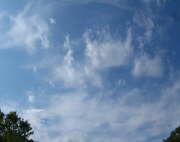 Random sky shot.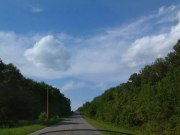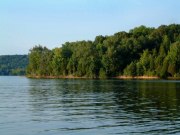 We're there! Land Between The Lakes National Recreation Area.
Run by the USDA Forest Service, LBL is, like
Breaks
, an interstate park. Located in Western Kentucky and Tennesse,
LBL is 170,000 acres of land sandwiched between Kentucky Lake and Lake Barkley.
Both of these lakes started life as rivers. In 1945 and 1950 the Army Corps Of Engineers turned them into lakes
as part of a flood control program and with a view to creating a recreational area.
Areas of special interest iin the park include The Homeplace, a fully functioning 1850s farm,
an Elk and Bison prairie, a number of marinas and just about any imaginable kind of trail.
Sadly Bison and motorcycles don't mix so we didn't get to visit that part of the park.
Above on the left (with a bit of windshield in the picture) is The Trace, a long, straight road that bisects the park.
On the right is the view of Lake Barkley from the lodge at Lake Barkley State Resort, another park next door.