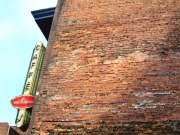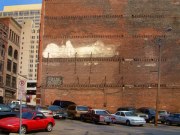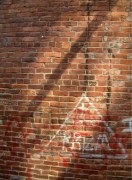 Welcome to Wall Street. For whatever reason, Mieko woke up this morning with a burning interest in bricks.
Here we have some beautifully weathered walls on and around Broadway.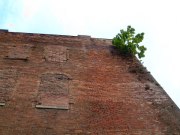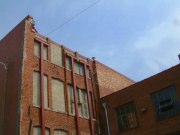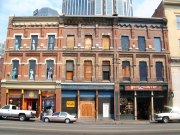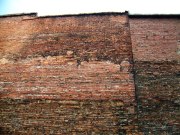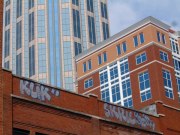 Looking at these pictures you can see when walls were extended, floors or windows added.
I wonder how the steel and glass of today will look 100 years from now.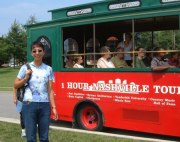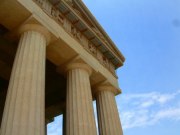 Left: Gray Line Bus Tours, your cliff notes to the city.
On the right is copy of the the Parthenon from Athens. How this came to be built in Nashville I don't know, but
if feels like a committee deciding the city needed to embrace and extend its artistic base or SFS like that.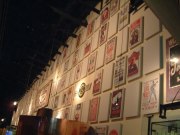 Another wall, this one at the
Country Music Museum And Hall Of Fame
.
Even if you are not a country music fan the CMM is definitely worth a visit. The paraphernalia of the genre
(a gold Cadillac and piano belong to Elvis, costumes belonging to Dolly Parton and the like)
are on display but the main is focusing is explaining the evolution of the art form and preserving its history.
Just one warning: bring a sweater because it's way over air conditioned.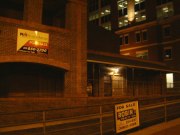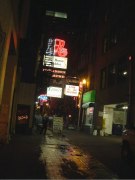 On the left is a
now defunct McDonalds
, the space has been open for a year. On the right is Printer's Alley,
once upon a time home to the city's printers but now the domain of bars. Based on two bars in Printer's Alley
and maybe 4 around Broadway (2nd and 3rd streets, if you are visiting) the music in Printer's Alley is better.
Speaking of music, here's a pop quiz: What are Nashville's big industries? Publishing (much of it religious) is #1,
banking is #2, insurance is #3. We get around to music and tourism at #4. Nashville is also home to a Nissan plant,
GM Saturn Division and Peterbuilt trucks, said to be the best semi tractors made.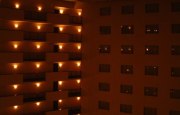 Another wall, this one inside the Hilton, designed to look like a city with a roof on it. We got a nice suite,
two free drinks at the bar and a great breakfast for $130, and there were no surprises on the bill.
I think we got a good deal, but I also think Nashville is just not a super expensive city to visit.