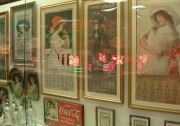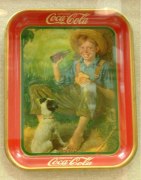 The Coca-Cola museum in Elizabethtown features what is supposed to be the largest collection of Coke memorabilia in the world.
Included is a little bit of bottling equipment, a number of different bottles, signs and posters. My favorite was the display of various vending
machines, starting with a simple device that allowed you to open a door (sort of like a modern newspaper machine) to early versions of
machines that sold drinks in paper cups. The picture on the right is an unsigned Norman Rockwell.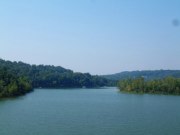 Nolin Lake. This is your basic random lake. If it has any significance at all in the greater scheme of things I have no idea what it is.
Had we still been on bicycles arriving would probably have been a significant moment, with the motorcycle it didn't carry much significance,
just a place to stop and think about taking a picture. And this symbolizes our dilemma...how to continue to appreciate the beauty of what we
are seeing when we don't have to work so hard to see it and there is always something else around the next corner.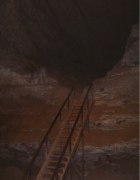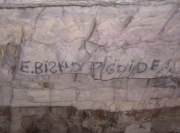 The above pictures are from Mamoth Cave State Park. The same limestone rock formations that give Kentucky the water
that makes such good bourbon also give it the longest cave system in the world. Rainwater, mixed with carbon dioxide in the
air and soil, formed a mild acid which slowly worked its way into cracks in the limestone and began to dissolve passages.
Flowing underground to the region's main stream, the Green River, this acidic groundwater has dissolved immense chambers
and over 500 miles of cave passages. That is, 500 miles have been mapped; geologists believe there is at least another 500
miles not yet mapped. You really have to see the caves to understand how vast they are. Suffice it to say you could easily
put a small city inside just the small part we went through. The stairs on the right remain from civil war (wood keeps in the dry
air), when the dirt in the cave was mined to make saltpeter, an essential part of gunpowder. On the right is graffiti left by
E. Bishop, a guide from the 19th century.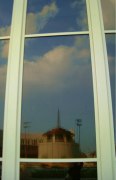 After Mammoth Cave we decided to go to Nashville. Neither of us had ever been there and it was only a couple of hours away.
Reflected in the glass above is the brand new
Country Music Museum And Hall Of Fame
. Some people might think that motorcycle
is a far less physically demanding way to travel than bicycle. To the contrary, motorcycles put a tremendous burden on their
riders. For example, I ordered Southern Fusion Wok Stir Fry and ice tea at the restaurant inside the CMM. However, the waitress
didn't give me a spoon so I had to improvise and stir in Equal with a fork.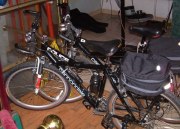 These police bikes were parked in the lobby of what looked like a strip show with their front wheels chained together by handcuffs.
Downtown Nashville has to be one of the heaviest policed places I've ever seen.
Tons of cops on foot, on bicycles (Cannondales and Schwins), on motorcycles (Harley Electroglides), in cars and on horseback.
It seemed like good, community oriented policing...cops were constantly chatting with people and were always very friendly.
I asked a motorcycle cop named Rob (who planned to buy himself a 150MPH+ Honda) why the heavy presence.
He explained it was so the tourists feel safe.
I'm not sure from what, but the
defunct McDonalds (closed a year ago)
in the middle of the district may be a clue.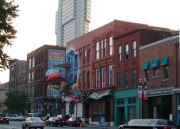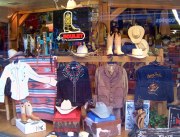 Some random shots of downtown. Of course, the requisite Planet Hollywood, Hooters and Hard Rock were there
together with a handful of t-shirt and fake vomit stores. The real attraction of Nashiville is, of course, country music
and there are maybe 30 honkey tonks where you can listen to live music fo the price of a drink (tips for the
band are appreciated but not required).
Special bonus: we went from passed from Eastern to Central time, scored an extra hour.