Here's how we did it--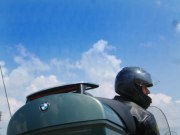 BMW K1200LT. Once we decided on a motorcycle the choice was between the BMW and the Honda Goldwing.
The Goldwing is slightly easier to handle at parking lot speeds and comes with a built-in intercom.
The BMW handles slightly better at high speeds and seemed more comfortable.
The money was about the same. We went with the BMW, partly for comfort and handling,
partly because the BMW dealer seemed more together than the Honda dealer.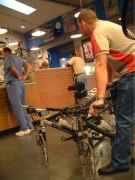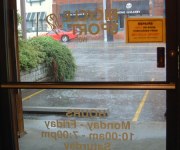 August 11, 2001. It poured rain outside as brought our bikes to be packed and shipped. Long, deep sigh.........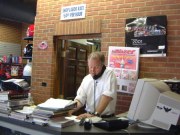 Jeff Cooke, owner of Louisville BMW andJim Cook Buick. Jeff is a former motorcycle racer and hard core bike fan.
Jeff says the difference between running the dealership and his old job as a criminal lawyer is that in the dealership
people are happy when they leave, rarely the case in a court of law.
This is one man who truly loves his product. Scattered around his office is protective grear for use in all four seasons
and pictures of him on various bikes.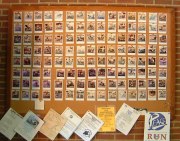 Satisfied customers. Our pictures should be up there now.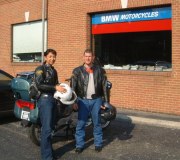 I'd like to say "what hath god wrought" but I know darn well it's all our own doing.
Be that as it may, never in a million years would I have guessed that Mieko and I were about to ride a motorcycle cross country.
In this picture we've returned our rental car, packed up the bike and are just about ready to go.
The boots and jeans were bought at a nearby mall, Mieko's jacket was ordered next day mail from Vanson and
her helmet came from the dealer. My jacket and helmet were mailed to me from home base,
where they were in a suitcase intended for use in San Francisco.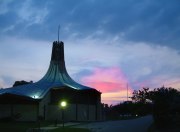 Sunset in Elizabethtown, called E-town by the locals and an instantaneous 45 miles or so from Louisville.
Mieko has taken to saying that America is country designed to be seen with the aid of internal combustion,
and I'm starting to think she may just have something. We have something like two months left to find out.