Evidence Photos

July 7, 2001
Williamsburg, VA to Charles Town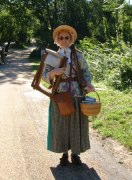 More history stuff type action. This picture was taken in Colonial Williamsburg,
a large area featuring the complete restoration of the historical builidngs of Williamsburg. Colonial Williamsburg is said to be
the worlds largest outdoor museum and I fully believe it. The place is huge and beautiful.. It is also home to William and Mary College.
Williamsburg is the former capital of Virginia and the place where Patrick Henry
("give me death or give me reincarnation") told the British just what they could do with their Stamp Act.
It was also the home of Thomas Jefferson, George Washington and many others.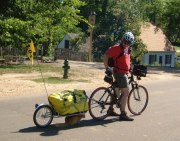 A four-footed memeber of the Colonial Williamsburg staff rests under the B.o.B. Note orange costume,
rare today but very popular with cats around the time the Virginia Declaration Of Independece was signed.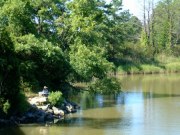 Person fishing in creek between Williamsburg and Yorktown.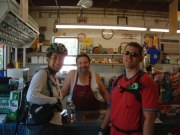 Dave Soto at the Sandy Point Superette. Everything from expertly prepared chicken sandwiches to engine oil
and fishing licenses. Everything purchased in the store comes with a little bit of genuine warmth humor from Dave himself.
The green things Mieko and I have on our chests are Family Service Band 2-way radios.
The work amazingly well and allow us to ride a little bit apart (I go faster downhill, Mieko faster uphill)
and still not worry about the other person. I've also heard at least one "Bill...you missed the turn. Over."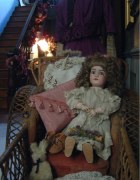 Bride Of Chuckie rests at the entrance to the Edgewater Bed And Breakfast in Charles City.
Great B&B, very romantic. Little boy at breakfast asked me if we were doing this trip by bike because
we didn't have any money.