Evidence Photos

July16, 2001
Afton, VA to Vesuvius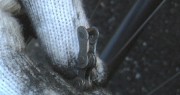 UGGH!!!
Broken chain just up the hill from The Cookie Lady's.
I'm going to assume that the chain was damaged in the derailer incident in Richmond
since I can't believe that otherwise a Trek chain with less than 1000 miles on it would just snap
going up a mountain with a 185 pound rider and a normal touring load.
It's a mountain bike, it should _love_ going up mountains, no?

Fixed!!
The chain is now two links shorter and skips a little, but it got me over the Blue Ridge OK
and I bet it will get me to Lexington VA., where I can get a new chain.
Only other issue: should I cross gears (big front to big rear) the chain is now short enough that it could be
some seriously scary tension on the rear derailer.


Afton lookout on the left, elevation 1895 feet. On the right is Rock Point, elevation 3115 feet.
According to Bicyling Coast To Coast we climbed a total of 5000 feet today, and frankly I believe it.
A handful of people had told us that once we got onto the Blue Ridge Parkway it would be fairly easy,
with some moderate, roller-coaster hills. Wrong. Up until the very end there is a great deal more up than down.
A beautiful ride but far and away the hardest of the trip.


Beautiful views along the Blue Ridge Parkway.
Aside from a few 35MPH downhill rides most of the day was spent around 5 MPH so we had plenty of time to enjoy the scenery.


Sun Down On Blue Ridge. When this picture was taken we were about 3 miles from Sugar Tree Inn,
the romantic spot we stayed for the night and next day. When I made the reservation I said we were on bicycles,
were riding the Blue Ridge and would be there before 7:00.
When we didn't show up at 7:00 Henry Walters, the inn keeper and a West Point Graduate,
became concerned for us and went out searching and escorted us to the inn.
It's nice to meet people with a real sense of responsibility.