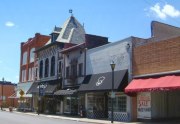 Downtown Cape Girardeau. Cape Giradeau is 1) the childhood home of Rush Limbaugh
and the place where he got his start in radio 2) home of Southeast Missouri State University and 3)
largely owned by the Jurer (sp?) family, who made their fortune in drywall.
Like many towns West of the Mississippi The Cape (as locals call it) was French and then Spanish territory.
A pleasant enough town with a large Target, Walmart and row of motels and family oriented restaurant chains,
it felt a little empty on a Sunday Morning. Aside from some French street names the place didn't seem to the casual visitor
more ethnic than any other American city. However, I did notice a black, female lawyer's ad (she had a big picture of herself)
on the back cover of the local phone booth, The ad was not remarkable, something like
"Injured at work? Let me get you the settlement you deserve. " What struck me was the"French, Spanish, Creole spoken"
in large, bold letters. There may have been more to the town than met the eye, I regret not digging down a little deeper. .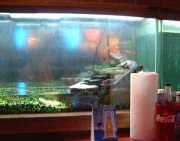 One of several alligator tanks at the Cajun restaurant where we had lunch.
This guy was maybe a foot and a half.
The store owner has a deal with a reptile supply company. He keeps the alligators until they reach a certain size and
then swaps them for smaller ones. They are fed raw chicken a couple of times a week.
Funny thing about alligators...those who have been fed by people learn to associate people with food and
are much more likely to attack human beings. I wanted to visit the reptile company and got directions
but after a brief search we couldn't find it and gave up.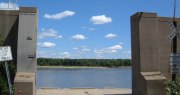 Like death and taxes, the Mississippi River floods. Marked on these gates outside the aptly named
Riverfront Park along its shores, not 5 minutes from where the picture above was taken, are various highwater marks
and the associated year. The park features what is basically a concrete and granite cobblestone amphitheater
offering a view of the river.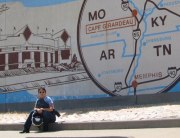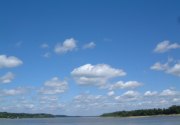 This dike (the wall, not Mieko) inside Riverfront Park is decorated with a long mural (100 feet?) depicting the history of the area.
While I'm sure the mural is partly for residents the pictorial history is also intended to welcome river traffic to the area.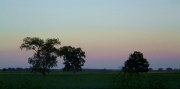 Our destinatin for the day! Sunset at Saint. Genevieve, MO, said to be the oldest town West of the Mississippi.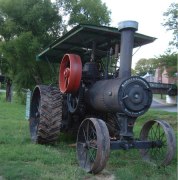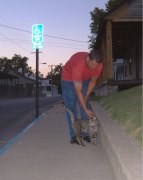 On the left, a fully functioning steam tractor. And yes, it is similar to the one that recently exploded.
The restored rate chart says $8/day for its use, but in fact it's (surprise, surprise) a display piece.
On the right is our first feline welcoming committee. This friendly beast ran up to us, said "Mow"
and asked to be petted. We were happy to oblige. Every other welcoming committee we've encountered to date
has been dog run. I give credit to Ste. Genevieve for allowing all specious equal opportunity
to represent it in this critical ambassadorial position.